The slope we're on should level off, eventually.
What a month.
Our family has been through some serious stuff, of late. For those who know our 13YO, she did develop a dangerously low blood iron requiring hospitalization two weeks ago. I stayed with her through the ICU and then on the adolescent care floor, for three days that were also three weeks, and three months, and three seconds. She got excellent care. She is home. She is much improved. We are all being together in new ways, now. Like everyone.
Then, yesterday, we got some very hard news about another family member on Scot's side. We are just really sad and are spending the weekend in sadness about it. Somehow the COVID crisis, as worrisome and scary as it is, has been re-rendered as a backdrop to the actual medical crises that have hit our family. This is a comfort, but only a tentative and uneasy one. We will know someone who will be hit hard and maybe die of the new virus; the only comfort is that it has not happened yet.
What I will say about all of this is perhaps the only thing there is to say: We give thanks for our community, which has unsurprisingly but also miraculously showed up for us during this time. From french fries sent by the rabbi, to flowers sent from dear friends in Ohio, to meals and gift cards sent by amazing family and friends and neighbors, we have been held and cared for by the people who love us. The children's teachers have shifted to online learning with few hiccups, and are providing some minimal structure to the week, for which we are almost weepingly grateful. (We do not, for the most part, have to leave home for our jobs, but we are required to deliver results that will fail spectacularly if we are constantly having to respond to children's needs.) I am gratified that we've stayed put in this poorly designed, inefficient townhouse with a stupidly ornamental/invasive garden in a weird cul-de-sac community with a mix of awesome and cranky neighbors for ten and a half years, because the various networks we've cultivated are coming shiningly through for our family.
I hope you are finding lots of ways to connect with others. If you have a Zoom seder to attend, or a Netflix party, or a virtual Easter egg hunt this weekend, I encourage you to just show up if at all possible. The novel coronavirus is damned bad news! But it's also teaching us to connect in some novel ways. How are you and your loved ones embracing some of these new ways of connecting? Let me know with a reply to this email, if you can. Here are some photos from our quarantine, and one from the hospital where I had a little blue fold-out couch to sleep on while my teen was being cared for.
A cordoned-off playground.
A mopping child.
A loaf of (more delicious and successful than last time) bread that I made.
The hospital room.
Getting groceries.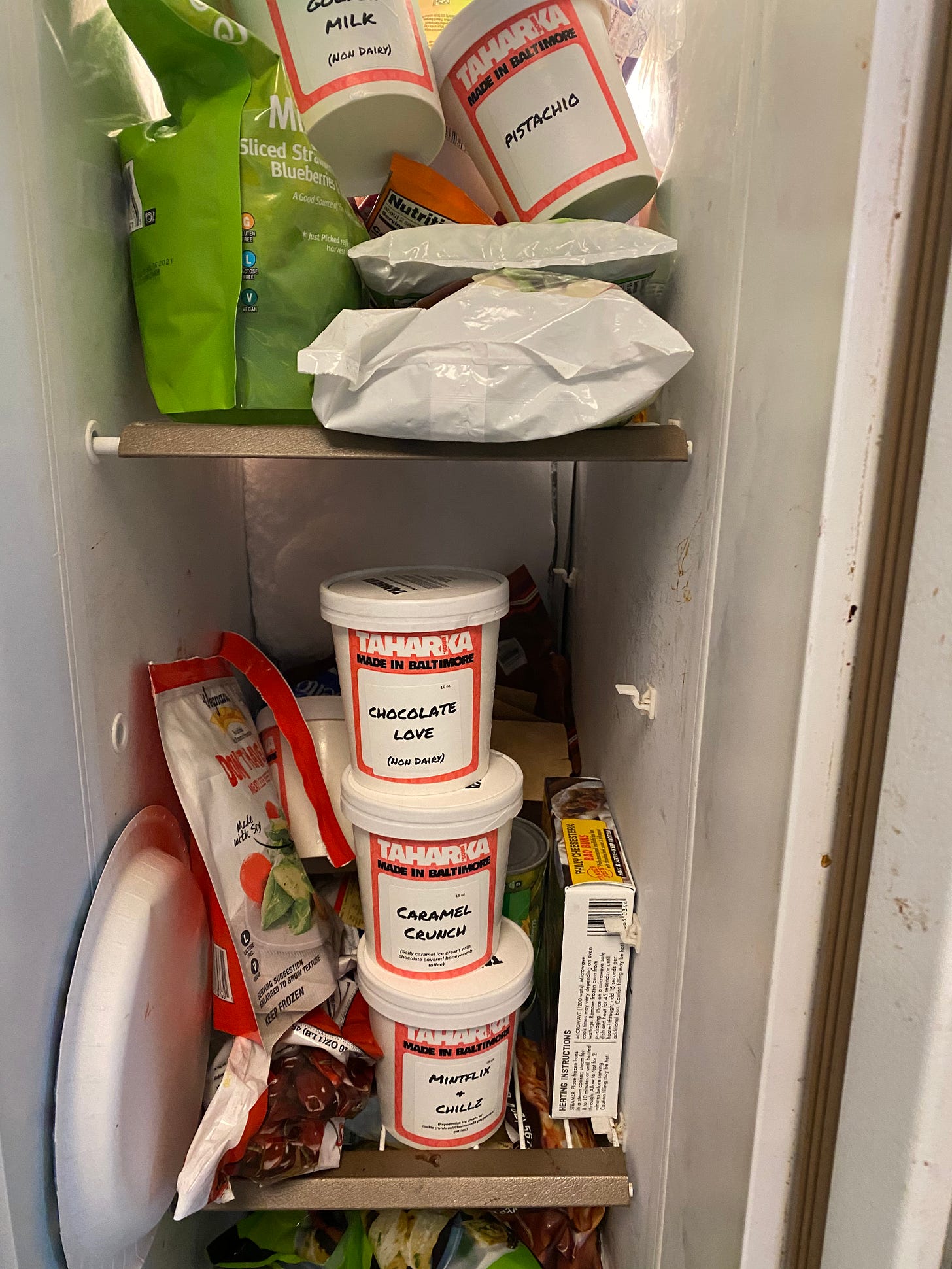 We ordered a case of ice cream, with joy and without compunction.
Herbs for calming nerves and boosting immunity.
A teen who is strong enough to walk outside again, with her Dad.
Psssst, reader! Thank you for reading. And I hope you will keep in touch! Would you please share this freely so that others may sign up?